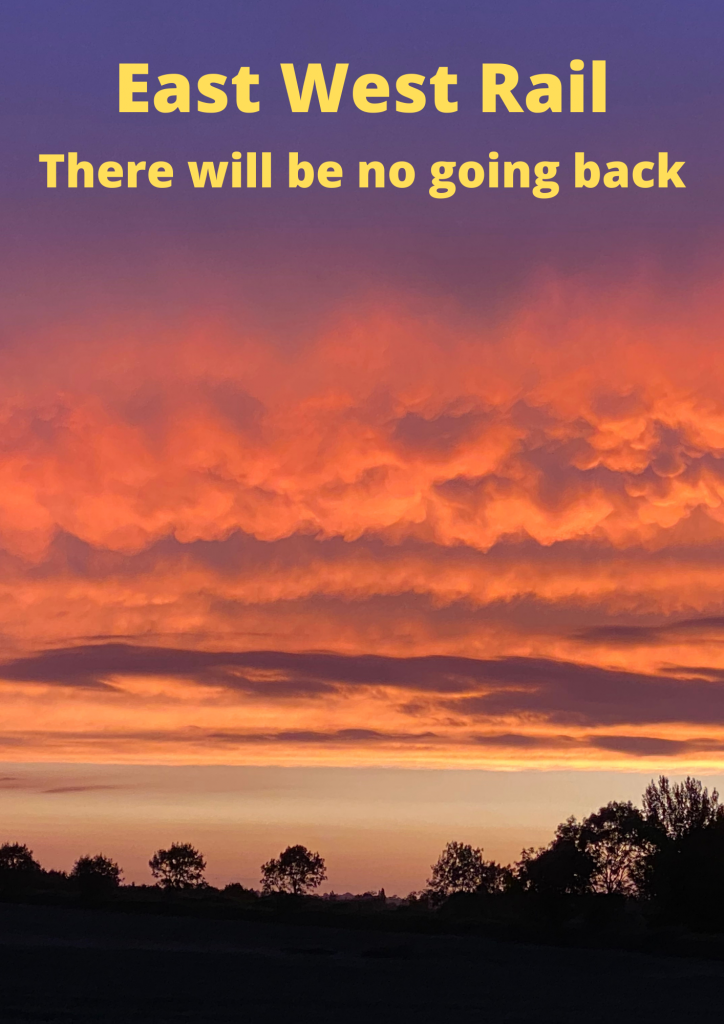 East West Rail Co. are holding a drop-in session from 2pm to 8pm at Haslingfield Methodist Church on Wednesday 12th October 2022.
The South Cambridgeshire countryside is a beautiful area full of nature reserves, handsomely tended farms, pretty woodland and the occasional vineyard, it's been that way for centuries. Unfortunately, that's where the nice part of the story ends. The government have trusted the routing of this new railway line to EWRCo. who have decided on an approach that can only have been decided on cost as it completely ignores what is right for communities and the environment. Their plan is to put a railway on top of a ten-metre high embankment (higher than a house) right across our countryside, blighting it for centuries to come. The impact on our lives and the value of our homes of this "Great Wall" will be devastating both long term and during the years of construction.
Briefing
On 30th May 2022, new EWR Co. CEO Beth West said to campaigners in Bedford that they are submitting a revised business case to the Department for Transport (DfT) at the end of June. DfT/Treasury decision will take months after that.
A recent Network Rail report compared EWR and peak road transit times. They found a 12-minute advantage for EWR from Cambridge Station to Bedford Midland Station. National Highways say peak road will reduce by 10 minutes when the planned A428 improvements are implemented. EWR will only provide benefits for a small proportion of trips between Cambridge and Bedford.
The local housing and transport plans have taken no account of the proposed EWR Bed-Cam route. The OxCam Arc "spatial framework" to integrate these will not now be produced. Thus, high first / last mile transit times for the railway will remain a problem. Michael Gove spoke about the Arc at the Levelling Up Select committee recently and distanced himself from ribbon development between Cambridge and Oxford. The EWR was an integral part of the OxCam Arc – which, it seems, is no more.
UK railways lose money on average, particularly since the pandemic. EWR has no large cities along its route, so we can expect lower than average passenger traffic, especially considering competition with road. Nationally, freight revenues are small compared to passenger fares.
70 local parish councils, district councillors, county councillors and the combined authority Mayor signed a letter to DfT forwarded by Anthony Browne MP asking for the business case to be published or the project cancelled. The rail minster responded without addressing the question at all.
Although DfT have a target to make railways net zero. EWR Co. have no definition of what that means. Does it include the estimated 866,000 lorry movements required to construct the Great Wall of S. Cambs? Or the thousands of additional houses?
Three years ago, in the January 2019 consultation, the target date for the EWR planning application was the end of 2021. Recent communication with EWR indicates that this date has slipped at least to the end 2024. According to their annual report to April 2021, EWR Co. have 150 staff with a median salary of £90,000, but the project has not progressed towards the planning application for the last 3 years.

Some Questions you might Consider asking EWR Co. at their drop in Event
Are the delays in producing the 2021 consultation response really because EWR Co. are waiting for a green light to proceed on the business case? (the high number of responses being more of a cover).
Do EWR Co. agree that all statements they make should be backed up by rigorous evidence? (If so why do they make so many anecdotal points).
Is the northern approach to Cambridge still actively being considered?
How have EWRCo. assessed the number of people that would use this railway and why don't they publish all the numbers?
Given the 3x cost increase in 2020, what cost reduction measures have been considered and how do they affect the proposed route/solution?
Why have EWR Co. made no progress towards the planning application in the last three years?
We are aware of the options, but how will EWR Co. reduce the height of the Great Wall?
Do EWR Co. have an open mind on whether the project should go ahead, or do they start from the answer that it should. Are they not conflicted because their jobs depend on it?
How is this project consistent with the Government's levelling up policy?
Why would peak ticket prices be any cheaper than 55p/mile seen on Thameslink and, accounting for £12.50/day parking, at Cambridge station how will this compete with the marginal cost of using a car? (Most families in the area need a car anyway and the marginal cost of an electric car is around 7p/mile).
There is a complete lack of transparency on the part of EWRCo. They have provided no detail on how they reached their decision for the approach into Cambridge. They have not responded to the public consultation and they have not presented a business case to justify spending tax payer's money. Please stand firm against it and make your feelings heard.